Students can propose projects for the new school in the borough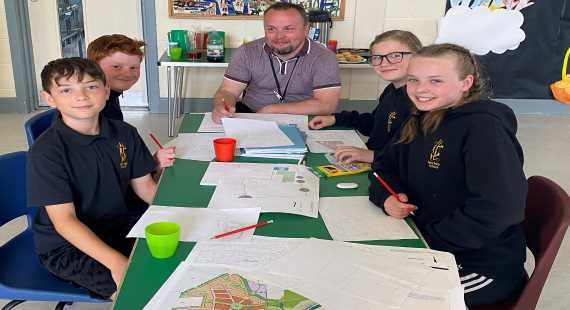 May 26, 2022
When it comes to designing a new school for Cheshire East, why not ask the pupils?
This is what happened in Nantwich, where pupils from the local group of schools came together to give their opinions, share their ideas and create their own designs for a new primary school for 210 pupils.
A single-entry primary school is set to open in fall 2024, where 1,100 new homes are being built on the Kingsley Fields development.
This will be one of many new primary schools that will soon open in the borough.
Green principles figured prominently in their designs and the type of materials that could be used, with students keen to consider the impact of new construction on the environment.
They were asked to suggest the key features they think would be important to them in terms of classroom layout, facilities such as outdoor space, parking and drop-off arrangements.
Six local primary schools participated in the project, which was hosted by Pear Tree Primary School. Other participating primary schools were Stapeley Broad Lane, Weaver Primary, Sound and District Primary, Acton CE, Highfields and St Anne's Catholic Primary School.
The 24 6th graders were able to rub shoulders with specialized professional designers, as well as members of the council. Sitting in groups, they applied a basic pencil and paper approach to the task. I really enjoyed that."
Councilor Kathryn Flavell, Cheshire East Council Senior Member for Children's Services, said: 'It is extremely important that we seek the views of our young people on projects such as this. They are in the best position to express an opinion on what works and does not work for them, in terms of layout and impact on the day-to-day running of a school.
"Elected council members have been actively involved in moving this project forward and we look forward to seeing how the views of young people will be incorporated into the final design of the new school."
The provision of a new primary school is one of the development planning requirements, so that children can be educated locally, with minimal travel for parents and guardians.
Boo Edleston, Director of Pear Tree, said: "The Nantwich Educational Partnership is a large collaborative group of schools working together to develop opportunities for children in our community, as well as to collectively improve outcomes for all our children.
"It has been a wonderful opportunity to play a part in the initial development of the new school in our city. The 6th graders had great ideals. Staff helped them capture and record their ideas.
"It's really important that the collective voice of our young people is represented in the development of their community and it was a great idea that we wanted to participate in."
Elsie, 11, said: "It was exciting to see our green energy ideals part of the plan for the new school. Another pupil, Maisie, said: "We would all like to be able to see inside the new school when it is built. It's great to have the chance to have a say in how it will be built.
Cheshire East Council has a legal duty to ensure that there are sufficient places for primary and secondary children in the borough. Existing education trusts are now invited to apply to run the school and details of this process can be found on the school organization on the board's website.