Spellcasters is the new school for talented young minds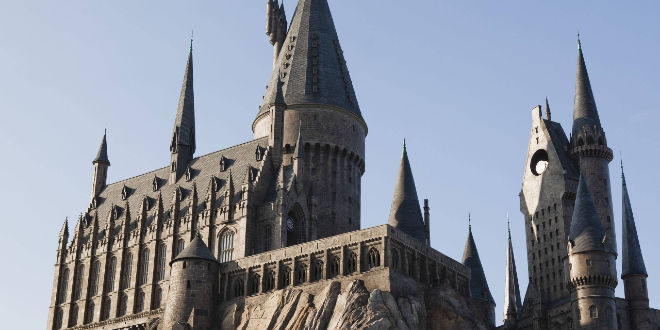 For clarification, what is your name and where are you from (as far as you are comfortable providing it)?
My name is Chris Wellman. I was born and raised in Indianapolis Indiana. I currently live in Westfield, IN with my wife Briana and our son Liam.
How did you start to read / watch the Harry potter series?
Early in our relationship, my wife Briana tried to get me to watch movies. At first I continued to resist because I thought they were right for the kids. I finally gave in a few years ago. I didn't like the first one, but pushed all the way and continued to stare at them reluctantly because it meant a lot to her. It wasn't until the Order of the Phoenix that I really started to like them, and since the last one they had become by far my favorite movies. Fast forward to today and I've watched all 8 of them about 26 times … lol. We read the books in our free time.
Can you explain, in fresh words, what are your plans and the basis of your project?
We dedicate half of the 20 acres we live on to a Harry potter-themed home school for children at risk. We call it Spellcasters. Our foundation, The Patronus Foundation, will oversee / manage everything. We will also be home-schooling our children. We are building, albeit a smaller version, the Great Hall, Gryffindor Tower, Hagrid's Hut, Great Lake, Forbidden Forest and more. On the weekend, when the students are gone, we will do an AIRBNB to help fund this project.
My wife and I plan to do a lot of the work ourselves and then partner up with other companies for the things we can't do. If anyone wants to help in any way (digitally rendering is the next item on our list, but also things like landscaping, construction – be it an expert in a specific phase of construction (laying foundation, framing, plumbing, electrical, HVAC, landscaping, flooring, interior design, painting, siding installation, etc. – we have a construction company aligned, but if any 'one is an expert in one or more phases or works for a company who is and wants to either donate the service or give a discount that would be awesome), custom pack the spellcasters express bus that will pick up / drop off the kids at home, or simply lend a hand as a worker (setting up / managing the quidditch pitch, helping dig the Great Lake (rather a pond), chopping down trees in the Forbidden Forest, laying / compressing stones for the 'go e), work in the school (we have a certified teacher who is a friend and with Briana and I will be the main educators but we could use other teachers and a few assistants), make an owl that can attach to the bottom a drone to deliver the acceptance letters, design the website, manage / edit our YouTube channel (we will be filming / documenting this project), volunteering, donations, suggestions, etc.), please send me a email to [email protected] Lots of work ahead for this great trip. Come join our team. Thank you so much!
I started a business in 2002 and it was always my goal to get to the point where someone else could run it so that I could devote more time to my passions (i.e. say helping the children, spending more time with the family, playing sports, buying / managing land / building a house, owning farm animals, learning about the world, etc.). I got to this point with my business around 2018 and started planning / executing these passions with my wife Briana. We bought 20 acres in Westfield, IN and started to execute our plan. We have built a house, pool, and tennis / basketball court (for us and the students) and will have many more fun activities around the property, which we have named Godric's Hollow. We should start building Spellcasters within a few months, with the goal of completing it by Spring 2022, and of course on opening day September 1, 2022. Four at-risk children will receive their letter by owl ( drone). The school week will end at 4pm on Friday and we are planning to do an AIRBNB on certain weekends to help fund this project. If successful, we plan to build more across the country and hopefully around the world.
According to your plans, the square footage will be about 1,200 in total, right?
The school's square footage is approximately 1,500. The Great Hall is approximately 46'x20 '(920 square feet), the Gryffindor Tower is approximately 450 square feet (two-story hexagonal tower, each floor 15 feet). in diameter, the hallway that connects them is about 10 feet long by 8 feet wide (80 square feet), the bathroom is about 8'x5 '(40 square feet).
Do you have any plans on how you would like to decorate the interior?
My wife Briana loves to decorate and has phenomenal attention to detail. She will do most of it, but we would love any suggestions / ideas. Overall, it will look like the interior of the Gryffindor Great Hall / Tower.
How many students do you plan to invite to join your school?
We will accept 4 children to start with, then add more depending on time, space, funds, etc.
Can you tell us a bit more about what it means for you to undertake this kind of project and why you decided to incorporate a Hogwarts theme? What was your inspiration?
It means the world to me to take this project. That's why I worked so hard for two decades, to get to this. I want to wake up everyday excited about the day ahead and know that I am helping to create a better world. We named our foundation The Patronus Foundation because we want to help protect and properly educate children at risk. For some reason, and through no fault of their own, they lack the resources, guidance, and supportive environment that children need to become happy and productive members of society.
What's your favorite Harry potter book / movie? What is your Hogwarts house?
Deathly Hallows 2. Sure, I love them all, but this one brings them all together and good triumphs over evil, as it should. It shows how much hard work and sacrifice it takes to accomplish something for the greater good. My house is Gryffindor and Briana's is Ravenclaw.