NIH-funded pediatric COVID-19 testing study finds school-aged children can self-swab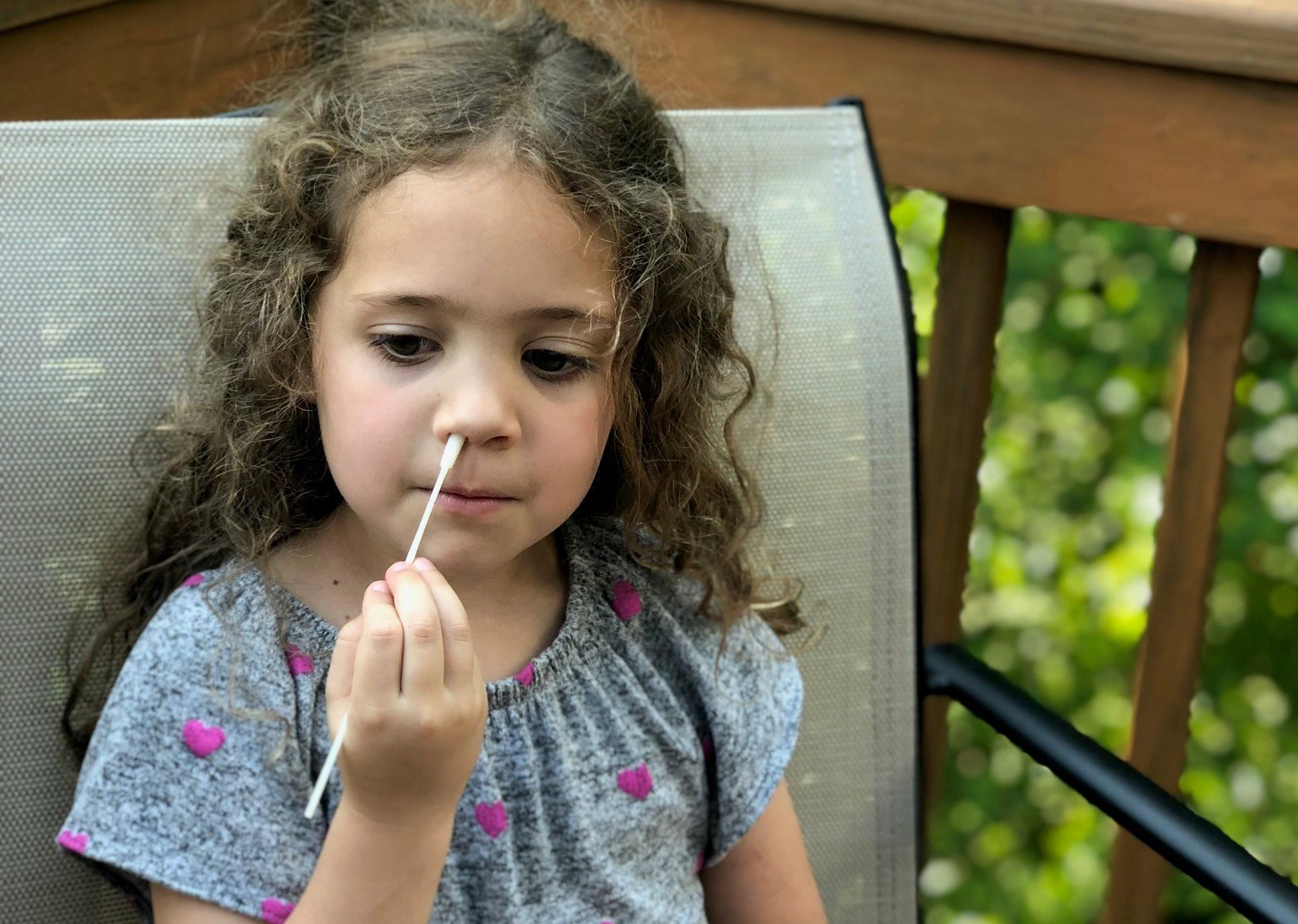 Press release
Friday, August 26, 2022
Nasal swab samples collected by children on par with swabs collected by health workers.
A new study that could have immediate implications for COVID-19 testing in schools has found that with age-appropriate instructions, school-aged children can successfully use a nasal swab to obtain their own sample of COVID-19 testing. The study provides data to support self-swab recommendations that can be implemented by schools and other settings where children are being tested for COVID-19.
The study was led by a team of clinical researchers from Emory University Atlanta School of Medicine and Children's Healthcare Atlanta and funded by the National Institutes Rapid Acceleration of Diagnostics (RADx®) Technology Program of Health.
"Asking adults to take swab samples from children is no small feat in schools and other group settings," said Bruce Tromberg, Ph.D., director of the Institute. National Institute of Biomedical Imaging and Bioengineering (NIBIB) and Head of RADx Tech. "The data from the study may surprise some and reassure others that children as young as 4 years old can follow simply presented instructions and collect their own nasal sample for COVID-19 testing."
The team conducted their study in July and August 2021 at sites in the Atlanta area, recruiting 197 children with symptoms of COVID-19. Before the self-swab, they showed the children a short explanatory video (90 seconds) designed for young audiences and provided a handout with written instructions and pictures. The children then began swabbing their noses – four rotations of the swab against the inside of each nostril about a centimeter deep. Then the health worker used a second swab to take a sample by swabbing each nostril of each child. All samples were then submitted to a clinical laboratory for PCR analysis.
Self-collected swabs and those collected by a healthcare worker agreed 97.8% of the time for a positive result and 98.1% of the time for a negative result. The analysis showed that both collection methods identified the 44% of symptomatic children who were positive for COVID-19.
"Seeing how well the results line up between children and skilled healthcare workers is a strong indicator that these age groups are fully capable of swabbing themselves if given proper instruction" says Jesse Waggoner, MD, assistant professor of infectious diseases with the Emory University School of Medicine and one of the study's lead authors.
A higher percentage of children aged 8 and under needed help, such as more instruction before properly completing self-collection – 21.8% compared to 6.1% for children over 8 – but the detection of SARS-CoV-2 among the two age groups did not differ.
The study, published in the Journal of the American Medical Association, offers data that is available to COVID-19 test makers when submitting applications to the U.S. Food and Drug Administration for use authorization. emergency (EUA) diagnosis. The NIH-backed RADx Tech Testing Verification Core provided the data late last year, where it was later referenced by manufacturers in support of EUA for their COVID-19 PCR diagnostic tests. 19. Prior to this study, the FDA had not authorized self-swab COVID-19 testing by children under 14 years of age. Several FDA co-authors served as advisors on the study design, and this study is an example of the unprecedented collaboration between the NIH and the FDA during the pandemic.
"Pediatric self-swabbing will support expanded access to testing and should make it even easier to test school-age populations with fewer resources," said Tim Stenzel, MD, Ph.D., director of the Office of Diagnostics in vitro at the FDA. "This study adds to our knowledge of test accuracy with these sample types and provides test manufacturers with data to support their EUA submissions to the FDA."
It has long been medical practice to have a healthcare worker collect samples for respiratory tract infection testing. However, this scenario is difficult when repeated testing of children is needed in school or other group settings that are less likely to have trained health workers available to collect samples. Self-swabbing of students, even when samples are sent offsite for analysis, could reduce the burden on school staff. The self-swab study grew out of discussions between researchers at the RADx Tech Testing Verification Core in Atlanta with the NIH RADx Tech program and the FDA about obtaining data to understand at what age children can perform swabbing. self-swab.
"Every minute of a healthcare worker's time is precious," said lead author Wilbur Lam, MD, a pediatric hematologist and oncologist at the Aflac Cancer and Blood Disorders Center of Children's Healthcare in Atlanta, a professor at the Emory University School of Medicine Department of Pediatrics and the Wallace H. Coulter Department of Biomedical Engineering at Georgia Institute of Technology and Emory University, and Program Director of the Georgia Clinical and Translational Science Awards Program Hub Innovation Catalyst Program . "Why not allow a child to self-swab? It's a win-win! They prefer to do it themselves and it frees up the healthcare worker to do other things. He added that if the study paves the way for lab test developers to add self-collection by children ages 4-14, end-users must follow instructions for use of a given device.
This research was supported by funds from President Biden's US bailout package through the National Institute of Biomedical Imaging and Bioengineering of the National Institutes of Health (U54 EB027690-03S1 and U54 EB027690-03S2) and also the National Center for Advancing Translational Sciences (UL1 TR002378), both parts of the National Institutes of Health.
About Rapid Diagnostics Acceleration (RADx®) initiative: The RADx initiative was launched on April 29, 2020 to accelerate innovation in the development, commercialization and implementation of technologies for COVID-19 testing. The initiative includes four programs: RADx Tech, RADx Advanced Technology Platforms, RADx Underserved Populations and RADx Radical. It builds on the existing NIH Point-of-Care technology research network. The RADx initiative partners with federal agencies including the Office of the Assistant Secretary of Health, the Department of Defense, the Biomedical Advanced Research and Development Authority, and the United States Food and Drug Administration. Learn more about the RADx initiative and its programs: https://www.nih.gov/radx.
About the National Institute of Biomedical Imaging and Bioengineering (NIBIB): NIBIB's mission is to improve health by leading the development and accelerating the application of biomedical technologies. The Institute is committed to integrating the physical and engineering sciences with the life sciences to advance basic research and medical care. NIBIB supports the research and development of emerging technologies within its internal laboratories and through grants, collaborations and training. More information is available on the NIBIB website: https://www.nibib.nih.gov.
About the National Institutes of Health (NIH):The NIH, the country's medical research agency, comprises 27 institutes and centers and is part of the US Department of Health and Human Services. The NIH is the primary federal agency that conducts and supports basic, clinical, and translational medical research, and studies the causes, treatments, and cures for common and rare diseases. For more information about the NIH and its programs, visit www.nih.gov.
NIH…Transforming Discovery into Health®
References
Concordance of SARS-CoV-2 test results using nasal self-swab in children and adolescents compared to healthcare workers. Jesse J. Waggoner, Miriam B. Vos, Erika A. Tyburski, Phuong-Vi Nguyen, Jessica M. Ingersoll, Candace Miller, Julie Sullivan, Mark Griffiths, Cheryl Stone, Macarthur Benoit, Laura Benedit, Brooke Seitter, Robert Jerris, Joshua M. Levy, Colleen S. Kraft, Sarah Farmer, Amanda Peagler, Anna Wood, Adrianna L. Westbrook, Claudia R. Morris, Usha N. Sathian, William Heetderks, Li Li, Kristian Roth, Mary Barcus, Timothy Stenzel, Greg S Martin, Wilbur A. Lam; JAMA. Published online August 26, 2022. doi:10.1001/jama.2022.14877