NBA Jr. Finds New Ways To Connect With Today's Youth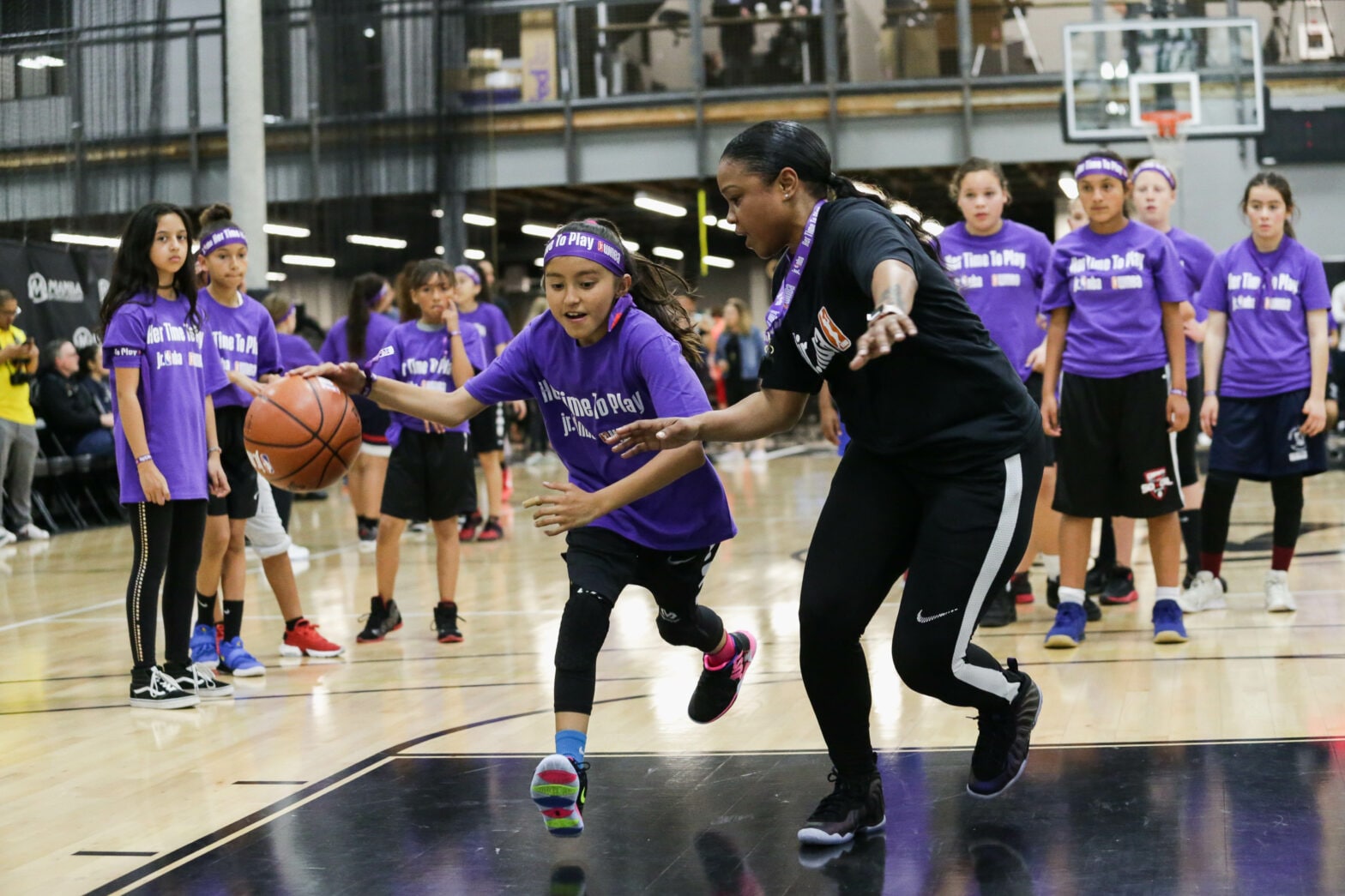 Today's NBA and WNBA stars were once the stars of the future. Each player has followed their own path to elite status, but each will tell you that talent is part of the recipe. Most professional players have gone through their childhoods with countless hours of training and practice and a lot of support.
Nowadays, as technology and social media continue to occupy a greater place in the lives of children, it is imperative to find new ways to connect with children and to provide support and access to knowledge. training. Trying to keep kids away from making TikTok videos might seem like a daunting task, but the allure of getting personalized content from their heroes could just do the trick.
The NBA Jr., which debuted in 2015, has taken steps to give children access to the learning tools of some of the brightest stars in the NBA and WNBA. The global pandemic has certainly been a trying time for many, but it has shed light on the deficiencies observed in some communities in terms of access to resources.
The NBA Jr. launched a distance learning program that was developed during the 2019-2020 season that garnered 210 million views, providing young players and fans in 118 countries with ways to learn the game during the pandemic. NBA Senior Vice President responsible for Youth Development David Krichavsky spoke about how things have changed.
"The pandemic has allowed us to recognize more and more that access to our sport is not equal in all communities, and this has forced us to redouble our efforts to ensure that all people, all communities have access to basketball. "
The success of the program has led to a hybrid strategy where kids will have access to plenty of content on the NBA Jr. website as well as new in-person events and initiatives. Virtual resources also extend to Jr. NBA's social channels (Facebook, Twitter, Instagram), offering an interactive experience where children can learn in a community atmosphere.
The Jr. NBA is celebrating the 7th annual Jr. NBA week, and this year there are three new initiatives designed to give young people better access to quality coaching and resources. This year's initiatives focus on coach education, playing time, and school programming.
The NBA Jr. aims to have more than 10,000 youth coaches successfully complete SEL (Social and Emotional Learning) training to give these coaches the tools to provide a well-rounded foundation for children. Youth coaches can find many other resources on the Jr. NBA website as well as the Jr. NBA Coach app available on mobile phones. Krichavsky stressed the importance of training young people on and off the pitch.
"This particular program is focused on the development of athletes off the field. So leadership, empathy and various social and emotional skills, how to become a complete person, in addition to a skilled basketball player who knows the basics of the game.
Her Time To Play, launched in 2018, is also finding new ways to provide leads for girls of all ages to pursue their basketball dreams. In addition to various new live events, the Her Time To Play website offers many interactive programs as well as digital toolkits for girls interested in becoming a player or a coach.
The interactive hub has plenty of information for kids, coaches and parents, making essential resources available to many who may not have been exposed to basketball or just crave more content. .
This year's partnership with Girls Leadership, a non-profit leadership development organization that teaches girls to exercise the power of their voice, will provide more than 20,000 girls with access to basketball clinics, to life-skills sessions and online learning. Krichavsky points out that the WNBA Finals will provide a platform for Her Time To Play to gain notoriety.
"We're going to culminate it in conjunction with the WNBA Finals with two events, each focused on the markets where the WNBA finalists come from, working with girls and coaches in their community, as well as with players and players. coaches from the WNBA team. "
The NBA Jr. has identified schools as a place where providing more resources can go a long way. This year, the NBA Jr. plans to deliver enhanced programming to more than 3,000 schools across the country. The importance of mental health is underscored by the Jr. NBA Next Level Mentality program, a digital content series where children can learn more about
mind-body connection of professional mental performance coaches and players the NBA and the WNBA. Kids can connect with their heroes and learn all about the mental side of basketball and how it relates to healthy living.
One of the most important events affected by the pandemic was the NBA World Junior Championship, which has been canceled for the past two years but is slated to return in 2022. The youth basketball tournament is aimed at the best 13 and 14 year old boys and girls around the world. 16 regional champions (eight US teams and eight international teams) compete in field competitions and participate in life skills programs at the ESPN Wide World of Sports Complex at the Walt Disney World Resort near Orlando.
The goal will always be to get kids away from screens and the field and get active, but video games, social media and other forms of technology will continue to be a part of children's lives. The NBA Jr. continues to find ways to make learning fun and give today's youth access to their favorite stars.