Consult PR Wins Horizon Interactive Silver Website Award for Scoop USA Business and Commercial Real Estate Investment Site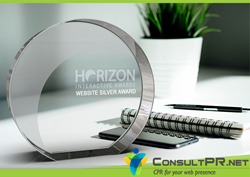 WEST PALM BEACH, Florida (PRWEB)
June 21, 2022
Florida-based digital marketing firm Consult PR, with clients worldwide, wins the Horizon Interactive Silver website award in the Real Estate category with Honolulu, Hawaii-based client Scoop USA. Scoop USA, Hawaii's commercial and commercial real estate investment site, lists developments and business opportunities in the state. The website helps connect developers representing real estate opportunities with thousands of interested Japanese tenants, buyers and investors.
The Horizon Interactive Awards have become one of the most prestigious awards in the field of interactivity, web design and creative media, receiving thousands of entries from around the world. The competition recognizes, promotes and rewards the best websites and web design, interactives, videos, online advertising, print media and mobile applications.
Consult PR has four main verticals: Software, Phone Apps, Websites, and Digital Marketing. The price above is part of the company's web design service offering. For more information, contact Consult PR.
Share the article on social networks or by e-mail: